Five Ways To Make Your Christmas Party A Memorable One
Natural Dinner Host? This time of year is the perfect excuse to have a fun and festive get together at your home! You love to entertain and the holidays are calling for a cheery celebration with your friends and family. While you're putting the finishing touches to your mouthwatering cuisine, here are some cheery ways to add some Christmas magic to your party.
1. Bring out the booze
Create a bar cart with your favorite festive drinks! Excite your guests with Hot Toddys, Mulled Wine, Hot Chocolate or Hot Apple Cider!
Photo Credit: stylewithinreach.net
2. Make a Menu
Place some cute printable menus on the table to give your guests a glimps into their very happy future!
Photo Credit: etsy.com
3. Christmas Napkins
Go the extra mile and wow your guests with these cute Christmas tree napkins!
Photo Credit: publix
4. Festive Appetizers
Some say not to play with your food, but how can you not when you can make cute, creative centerpieces?
Photo Credit: homeiswheretheboatis.net
5. Last but not least, dessert!
Make your dinner a memorable with a heavenly, drool worthy dessert! Check out this recipe for Chocolate Caramel Marshmallows.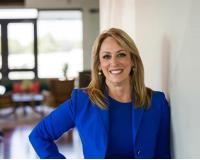 Michelle is a native of Southwest Missouri and has twenty-five years of experience in selling real estate in the greater Springfield area! Michelle specializes in all price points, including new const....