Bet on These Home Improvements in 2015
DAILY REAL ESTATE NEWS | FEBRUARY 2015
If you're considering giving your home an upgrade this year, it can be overwhelming to choose what home features need an overhaul. Trends seem to change all the time, and the last thing you want is to spend money on costly improvements that will soon be out of date.
What's Hot In Design?

21 Hot Housing Trends for 2015

Designers, Builders Reveal Hot Trends for 2015
Real estate brokerage's recently analyzed home features that are most desirable to potential home buyers. First, they asked local real estate agents to take note to what features were cropping up the most on home tours. Then they searched for those design keywords and took note of what trends experienced the most growth in popularity in the last five years.
So what seven home improvements made their list of the safest bets?
Quartz Countertops: For years it was all about the granite counters, but it appears that quartz is all the rage these days for buyers. According to agents, quartz has experienced a huge increase since 2012, due to its durability and overall buyer granite fatigue.

Smart Homes: While Smart Home design is overall still a niche with buyers, it's a phrase that has experienced an explosion in listing mentions since 2012. Agents caution that buyers really need to choose a smart home system with the most up-to-date software since smart home technology is rapidly evolving.

Stainless Steel Appliances: This trend is here to stay, and it has only increased in popularity since 2011. Stainless steel is "the gold standard for kitchens these days" and it appears to be a very safe home improvement bet.

Fire Pits: Buyers are still interested in turning their backyards into relaxing areas with multiple focal points that encourages interaction and socializing, and adding a fire pit remains a popular upgrade.

Tasting Rooms: In the high-end and luxury market, the term "tasting" has slowly increased in listings over the last five years. In the past, buyers hid their wine cellars away from the main focal point of the house, but these days they're requesting tasting rooms that are adjacent to the main socializing rooms of the house, such as the kitchen and living rooms.

Outdoor Kitchens: Along with fire pits, outdoor kitchens and multi-use backyard areas have only gained in popularity, especially for high-end buyers who mention socializing in the home as a priority. Backyards are becoming places to lounge during the summer, with full kitchens, fireplaces and televisions. Freestanding Tubs: The days of the space-saving combined shower and tub are over, at least for luxury buyers. reports that the term "freestanding tub" has increased dramatically since 2011, as buyers want a bathroom that's more reminiscent of a spa.
And lastly, one trend that is seemingly on its way out? Exposed brick. Mentions of exposed brick in listings peaked back in 2013, and they caution that other than loft homes, buyers' interest in exposed brick is waning.
http://realtormag.realtor.org/daily-news/2015/02/19/bet-these-home-improvements-in-2015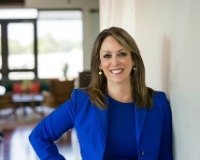 Michelle is a native of Southwest Missouri and has twenty-five years of experience in selling real estate in the greater Springfield area! Michelle specializes in all price points, including new const....