FALL FRONT PORCH DECOR DOS AND DONTS
Via: Murney.com
Cooler weather is upon us, and it's a perfect time to make your home reflect the new season! Even the non-crafty folk out there can get on board with these ideas. Make your front porch your favorite escape this autumn season. Here are our do's and don't for fall front porch decor!
HOW TO DESIGN COZINESS
Do pick some of your favorite outdoor friendly pillows and blankets to cozy up your space! Cozy enough to where you can enjoy reading a book and sipping coffee in the cool morning, but durable enough to where a few drops of rain won't hurt them. Don't over do it with tons of signs with cliche fall phrases on them. A couple signs are great, but if your guests are trying to read six signs at one time while walking up to your door, it's a bit much.
HOW TO PICK THE PUMPKINS
Do think outside the box! Your pumpkins don't have to be plain orange. Think of decorating with white, yellow, multicolored, or even your own hand painted pumpkins to put some variation on the cookie cutter orange pumpkin. Don't go overboard with them. Too many of the orange guys and people will start paying you to pick one up from your personal front porch pumpkin patch.
HOW TO ATTAIN YOUR LOOK
Do get creative! You don't have to stick with the cliche fall burnt orange. Make your porch pop with fall decor that matches your personal design style. Don't treat your porch like a sort of purgatory for unloved or no longer needed goods waiting to be thrown out. Your porch isn't a place to store your broken appliances, boots that don't fit anymore, or odds and ends kind of things.
HOW TO HANDLE THE FLOWERS
Do take advantage of the flowers that bloom best in autumn! Mums, asters, pansies and other beautiful fall plants can only be highlighted for so long. Don't be afraid to branch out and use non traditional field decor, like stringing corn husks together or bunching up small wheat stalks.
HOW TO CHOOSE TRANSITIONAL DECOR
Do choose core pieces that you can easily decorate for fall and winter. Perhaps decorate up your favorite outdoor chair with different types of blankets, or create a wreath that you can easily add little touches here and there with the changing of the seasons. Don't try to combine all your holiday decor and get too carried away. Enjoy each season and the decor it brings!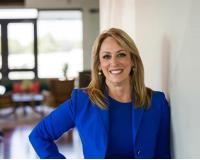 Michelle is a native of Southwest Missouri and has twenty-five years of experience in selling real estate in the greater Springfield area! Michelle specializes in all price points, including new const....