The best of agents can fall prey to the worst client follies, no matter how much preparation you've done. Most agents would agree real estate licenses should come with capes for moments when showings and sales almost end in disaster.
Since you can't avoid the disaster moments, here's a short list of the fixes you should be prepared to pull off and a shopping list for your hero-agent toolkit:
1. Debug the Digs
Summer means lots of listing traffic. Some of that traffic shows up in the form of unwanted insect visitors. To quickly debug a dwelling, check out some of these quick solutions for quickly clearing out "flying friends" who attempt to join the showing or open houses:
2. Bring the Walls back to White
A common culprit that can compromise a listing's shine is a dirty or dingy wall. In effort to move, prep, and declutter, seller clients can sometimes do more harm than good. If you run into needing to clean walls last minute, here are a few items you should have in your arsenal:
3. Fill the Gaps in a Flash
Rooms that are echo chambers miss the chance to inspire. For ideas on fast ways to fill spaces the right check out these expert posts:
4. Kill the Odor Eliminators
Whether you're battling cigarette smoke, pet pungence, or other offensive odors, make sure you remember these hacks for eliminating the stinky showing stoppers you can't see:
Bowl of Vinegar Overnight — Place a bowl of vinegar in a smelly room overnight to soak up the unwelcomed scents.

Happy Hour Spray — Add 2-parts water and 1-part cheap vodka into a spray bottle and spray almost any area in the room. The mixture grabs the smell and evaporates.

Have Coffee and an Orange — Coffee grounds and orange peels are great odor neutralizers. Add one of them to a bowl in the room, inside the trash can, or down the garbage disposal to help eliminate odors
What's on Your List?
These are four of our favorite quick fixes for showing disasters. What would you add to our list?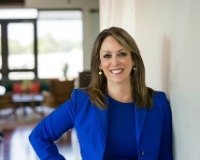 Michelle is a native of Southwest Missouri and has twenty-five years of experience in selling real estate in the greater Springfield area! Michelle specializes in all price points, including new const....