Can I Buy A Home With Bad Credit
Many of us dream of homeownership but worry that our past money mistakes might keep us from realizing that dream. And while having a prime credit score does make things smoother, having a fair score may not mean you can't buy a home. And having a bad credit score doesn't mean you can't ever buy a home.

No matter what your score is, you have options.
Focus on the Positives

While most lenders set minimum credit score requirements, you may still find a mortgage if you're right on the line with other positives working in your favor.


According to automated mortgage solutions giant Ellie Mae, in 2013 31 percent of loan approvals had an average FICO score under 700. If your credit scores are close to 700, you may still get approved for a mortgage with other positive factors on your application. For example, a steady employment history makes you a lower-risk applicant. Your application will also look more favorable to lenders if you can put at least 20 percent down on a home and have enough cash reserves left over to make three-to-six months worth of mortgage payments.
Government-Backed Loans
If you're struggling to qualify for a conventional mortgage, you may try a government-backed loan.
The U.S. Department of Veterans Affairs backs loans for current and former military service men and women. V.A. lenders typically look for a 620 or higher credit score to approve these loans.
The Federal Housing Administration also backs loans with programs that are often geared toward people who don't qualify for a conventional loan. For example, many lenders in the FHA's First Time Homeowner program use manual underwriting for applicants with lower credit scores. Since a person is actually looking at your application, you have a better chance of getting approved with a lower credit score.
The United States Department of Agriculture's Rural Development loan typically requires that your credit score falls into the "fair" range but may accept a credit score of 640 or higher.
Reaching Approval
Being unable to find financing doesn't mean you'll be a renter forever. Many people are able to raise their credit scores to approval rates within 12 to 24 months. It isn't easy but there are a few steps you can take to give your credit score a boost. For example:
Pay on time – 35 percent of your FICO score depends on your payment history. Make sure your bills are paid on time each month
Lower your debts – Debts make up 30 percent of your score. Paying off large chunks of debt can lead to a quick boost in scores.
Don't apply for new credit – Resist the urge to apply for new credit while you're working on your credit scores. Taking on more debt could hurt your scores and many lenders consider recent big purchases a risk factor when you apply for a mortgage.
Via: http://www.realtor.com/advice/can-i-buy-a-home-with-bad-credit/#.UtWrKJ5dXoZ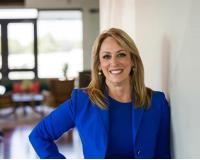 Michelle is a native of Southwest Missouri and has twenty-five years of experience in selling real estate in the greater Springfield area! Michelle specializes in all price points, including new const....