5 Reasons Its Still A Great Time To Buy A House
After years of sluggish sales and false starts, the real estate market is on a tear this summer, with prices posting double-digit gains every consecutive month since April.
Prices have increased so much so quickly in some markets that a few experts are already crying "bubble." There's no doubt that the bottom has passed.
Tight inventory and climbing prices have created a seller's market in most places and realtors are reporting bidding wars in the hottest markets – but that doesn't mean there's not opportunity out there for home buyers. "Just because it would have been cheaper to buy a home six months ago, doesn't mean it's not a good time to buy one now," says Trulia housing analyst Jed Kolko.
That's good news for the 68 percent of renters surveyed in March by JP Morgan Chase, who said they wanted to buy a home. It may be risky in today's market for home flippers looking to purchase and sell a home quickly for profit. But for those retail buyers who want to buy and live in a house for five or 10 years, here are five reasons to act now:


1. HOME PRICES ARE STILL RISING
The massive gains seen over the past few months make it easy to forget that housing only bottomed out last year, hitting its lowest level in March 2012. While recent prices increases aren't sustainable, there's plenty of room for home values to climb. Even with four months of improvement, prices remain about 26 percent below their 2006 peaks.
The chief driver of price gains is constrained supply, reflecting modest homebuilder activity; dwindling foreclosures; and continued foot-dragging by potential sellers who are waiting for prices to improve even further. Total housing inventory at the end of May rose 3.3 percent, to 2.22 million existing homes available for sale, which represents a 5.1 months' supply at the current sales pace, down from 5.2 months in April, according to the National Association of Realtors. Listed inventory is still 10.1 percent below a year ago, when there was a 6.5-month supply.


Going forward, price increases will vary by region, while prices nationally are expected to see more modest increases of an annualized 3.9 percent per year through 2017, according to CoreLogic.

2. RATES ARE LOW BY HISTORICAL STANDARDS
Rates, currently at about 4.6 percent, have climbed a full percentage point since May – but they're still lower than they were just two years ago and far lower than their long-term average of about 8 percent. "In the history of America, a 30-year mortgage at less than 5 percent is a gift," says Mark Dotzour, chief economist at Texas A&M's Real Estate Center. "It's not supposed to be that way, and rates are only that low because of extraordinary monetary policy."
Economists don't expect the recent surge to continue. The Mortgage Bankers Association predicts rates will remain close to current levels through the end of next year.

3. IT'S GETTING (MARGINALLY) EASIER TO GET A MORTGAGE
Lending conditions constricted considerably during the credit crunch that hit after the bubble, and lenders have been slow to open their doors to less-than-stellar borrowers.
Still, there are signs they're starting to relax requirements. While lending is nowhere near the no-doc, no down-payment days of the subprime-fueled boom, the Mortgage Bankers Association's Mortgage Credit Availability Index showed that credit availability has increased slightly every month since April. Since the start of 2013, banks have loosened requirements on down payments, debt-to-income ratios, and credit scores, according to a report from Ellie Mae.
Banks may be even more willing to work with homebuyers over the next year as rising rates mean fewer applications from refinancers that have dominated their business in recent years. "A lot of banks were at capacity dealing with the refinancers, which are easier loans to process," says Zillow economist Svenja Gudell. "Now they'll have availability to work with other borrowers."
4. BUYING IS STILL CHEAPER THAN RENTING
Even with the recent increase in prices and rates, it's cheaper to buy than to rent in all 100 of the largest real estate markets, according to an analysis by Trulia.com. Nationally, it's 37 percent cheaper to buy than to rent, assuming the buyer stays in the home for at least seven years. In fact, rates would have to more than double to over 10 percent for markets to tilt in favor of renting in 78 of the largest 100 real estate markets.
Typical monthly rent in the 100 largest metro areas is $1,100, according to RealPage, and it's not expected to get any cheaper. The National Association of Realtors expects them to rise 4.5 percent this year and next.

5. YOU WON'T HAVE TO COMPETE WITH INVESTORS
Realtors and homebuyers have complained in recent years that it's tough for retail buyers to compete in the hottest markets, since an influx of investors were able to snap up thousands of properties at deep discounts by promising fast, all-cash deals. Recent price increases make such buys less appealing.
The distressed sales that brought investors to the table are diminishing as the number of foreclosures in the works finally wanes. In May, there were one million homes in some stage of foreclosure, a 29 percent decline from the previous year, according to CoreLogic. "Investors are recalculating their numbers, because it might make less sense for them to buy in order to flip or rent now," says Lawrence Yun, chief economist for the National Association of Realtors. "That's an opportunity for primary owner-buyers who have less competition and still a historically favorable environment, even if affordability is weaker."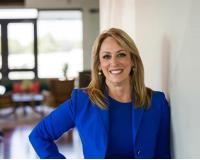 Michelle is a native of Southwest Missouri and has twenty-five years of experience in selling real estate in the greater Springfield area! Michelle specializes in all price points, including new const....