5 Places To Beat The Heat
The dog days of summer are here. It is so hot in Springfield lately, with temps hanging around in the low 90's every day! You hate to spend your summer indoors, but being outside can be pretty miserable. Here are five places you can go to beat the heat!
1. The Republic Water Park
There really is something for every age, and you don't have to drive all the way to Branson to experience twisty waterslides or splash pads.
2. Springfield City Pools
Fassnight offers some big waterslides of its own, and Grant Beach is just for the little ones (and free!)
3. White Water - Branson, MO
If you're up for a little day trip, White Water is the perfect destination on a hot summer day. It's a whole 13 acres of water fun, and on a few nights in July and August, the park is open until 10 pm during Night Water!
4. Lindenlure - Rogersville, MO
If a public swimming pool or waterpark doesn't entice you, head over to Rogersville. Lindenlure is a public access point on the Finley River, located near the Highway 125 and Highway JJ intersection. Pack a picnic and some water and enjoy a day playing in the river.
5. Johnson's Shut-Ins State Park
Up for a little road trip? Johnson's Shut-Ins is about a two hour drive from Springfield. The Shut-Ins are nestled into the St. Francois Mountains, providing picturesque fun. You can jump, slide, and swim around all the rocks in the river - at your own risk, of course. You can enjoy nature's water park for free! The state park is also a hot spot for camping, hiking, biking, and fishing - the perfect spot for a weekend getaway.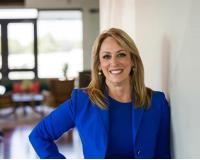 Michelle is a native of Southwest Missouri and has twenty-five years of experience in selling real estate in the greater Springfield area! Michelle specializes in all price points, including new const....