4th Of July Events Around The Ozarks
Check out our list of Independence Day, 2013 events across the Ozarks


SPRINGFIELD, MISSOURI
23rd Annual Midtown Historic District 4th of July Parade.
10 a.m.-1 p.m. July 4 at Washington Park, 1600 N. Summit Ave. Free and open to the public.
Activities include a patriotic parade from Central High School to Washington Park, free ice cream and water, hot dogs and hamburgers and live music with The Norman Jackson Band.
The grand marshal is Dr. David Manuel, new president of Drury University, with his wife, Betty Coe Manuel.
Route for the parade: Begins at Drury University parking lot north of Central High School, north on Benton Avenue to Calhoun Street, east to Washington Avenue, north to Locust Street and east to Washington Park.
Fireworks at the Field
Fireworks at the Field, a daylong celebration followed by the region's largest fireworks show, is July 4, in the Jordan Valley Park area. Activities begin at 3 p.m. with ice skating and inflatables at Mediacom Ice Park, face painting at the Creamery Arts Center and interactive exhibits at the Discovery Center. These activities last until 8:30. The Springfield Cardinals play the Corpus Christi Hooks at 5:09 p.m. at Hammons Field. After the game, fireworks begin at 9:45 p.m. at Hammons Field.
Tickets for Fireworks at the Field are $7 in advance, available at any Springfield Price Cutter and the Hammons Field Box Office, or $8 on July 4. Tickets allow entrance to all event venues. Veterans and active military personnel with an ID can purchase tickets at the gate or at the Hammons Field box office in advance for $5.
Children under 5 are free. Patrons who wish to upgrade their baseball game general admission ticket to a reserved seat can receive a $3 discount on any other tickets at the Hammons Field box office based on availability.
City Utilities of Springfield offers free shuttle service downtown with several free parking options around the Jordan Valley Park area. Fireworks at the Field is organized by the Springfield Cardinals, Urban Districts Alliance, Springfield Regional Arts Council, the Discovery Center and the Springfield-Greene County Park Board.
For more information about Fireworks at the Field, contact the Urban Districts Alliance Office at 417-831-6200.
Splash 'n Sizzle at the pool
The Springfield-Greene County Park Board offers discount admission to three outdoor pools during the Independence Day Splash 'n Sizzle event, Thursday, July 4, noon to 5:30 p.m., at Fassnight Pool, Grant Beach Pool and Meador Pool.
Admission is $1 or free with a canned food donation. All donations go to Ozarks Food Harvest. Last year, Splash 'n Sizzle events generated more than six tons of canned food items.
Free Summer Tuesday and Military Appreciation Day at Dickerson Park Zoo
Dickerson Park Zoo offers free zoo admission to children and adults on Free Summer Tuesday, Tuesday, July 2, 9 a.m.-5 p.m. Free Summer Tuesday continues Tuesday, July 16.
Dickerson Park Zoo also offers free admission to active military personnel and members of their immediate family (with an ID) on Military Appreciation Day, Sunday, July 7, 9 a.m.-5 p.m. This is a first-time event for the zoo.
Dickerson Park Zoo is located at 1401 W. Norton Road, Springfield. For more information, call Dickerson Park Zoo at 417-864-1800 or visit
www.dickersonparkzoo.org

Central Assembly of God's Patriotic Celebration
Sunday, June 30 the community is invited to join in and "Celebrate America!" Central Assembly of God's 10am service will be filled with heart-soaring patriotic music that will remind us how proud we are to be Americans.
The celebration will open with the Presentation of Colors by the young men of the Color Guard of Central Assembly's Royal Rangers program. They will also lead in the Pledge of Allegiance followed by the singing of the Star Spangled Banner.
We will give special thanks to those who have fought and are fighting today to uphold our God-given liberties with a tribute to veterans with the Salute to the Armed Forces by the Sanctuary Choir and Orchestra.
Pastor Jeff Peterson's message will include thanking those who offer leadership in the political spectrum. We will pray for God to continue to shed His grace upon our great nation, remembering that the freedoms we enjoy in America are nothing compared with the freedom we have in Christ.
Other special music includes America the Beautiful and Stars and Stripes Forever.
A special arrangement of The Battle Hymn of the Republic performed by the Sanctuary Choir and Orchestra will conclude the service.
Central Assembly of God is located at 1301 N. Boonville, Springfield, MO, 417-866-5013
KIMBERLING CITY, MISSOURI
FireBurst 2013
Date: July 6, 2013 Time: 7:00 pm - 10:00 pm Contact: Table Rock Lake Area Chamber of Commerce Office Phone: 417-739-2564 Email:
trlchamber@visittablerocklake.com
Over 1,000 boats will crowd the lake for this huge fireworks show on Table Rock Lake in Kimberling City. Fireburst will set off your imagination with an unbelievable fireworks show. Whether on foot or all aboard, there is no bad seat in the house. Head to Indian Point, near Branson West, and bring a chair to enjoy the festivities from land as the sky is striped with color and blasting with this popping heard only once a year.
For those who prefer to spend the holiday on the water, plan ahead for your day. Boat rentals can be hard to come by on this holiday. Or you can always bring your own boat and float the day away with everyone celebrating Fireburst.
SHELL KNOB, MISSOURI
Boat Parade & Fire & Thunder Fireworks on Table Rock Lake
Date: July 4, 2013 Time: 6:30 pm
Location: Show map Lost Hill Island
Shell Knob, MO 65747
Contact: Shell Knob Chamber of CommercePhone: 417-858-3300
Boat Parade & Fire & Thunder Fireworks on Table Rock Lake @ Gather at Lost Hill Island (Where the White & Kings Rivers Meet
In conjunction with the Fire & Thunder Fireworks display, the Shell Knob Chamber of Commerce is again sponsoring a boat parade on Table Rock Lake. Boaters will congregate on the south side of Lost Hill Island (at the confluence of the Kings and White Rivers) on Thursday, July 4 at 6:30PM. The parade will begin idling toward the Shell Knob bridge around 7PM and ending at the fireworks site prior to the beginning of the display. All types of craft are welcome to join the parade; there is no cost to enter your vessel so decorate your boat and join the fun!
Make your plans now and display your patriotic pride! Then enjoy the Fire & Thunder Fireworks which will start at dusk. For more information, contact the Shell Knob Chamber of Commerce at 417.858.3300
BATTLEFIELD, MISSOURI
City of Battlefield Independence Day Celebration
Plan now to attend the 8th annual FREE Fireworks Celebration in the Park! On Thursday, July 4th starting a 5:00 pm, the City of Battlefield will have fun activities for all ages, and a great variety of food, vendors, and music. Of course the highlight of the evening is our fantastic fireworks display.
Bring your lawn chairs or blankets and save your spot for what we've been told is "the best fireworks show in Greene County"! You may bring your own food or drink items (no glass), but NO ALCOHOL or personal fireworks are allowed, and all pets must be on a leash at all times.
Free shuttle service is available from 5:00 pm to 11:00 pm from the parking lots of the First Baptist Church, Assembly of God Church, and Burk Erectors to the Cherokee Trail of Tears Park (Located adjacent to City Hall-5434 S. Tower Drive, Battlefield, MO 65619).
Come early, stay late, and enjoy a great free event brought to you by the City of Battlefield and the Battlefield Park Board.
LAKE OF THE OZARKS AREA
July 3: Eldon Family Fun Day at Eldon Air Park
Skate board demonstrations held here as a part of the fun day celebration. Miss and Mr. Eldon pageant, parades, music performances, washers' tournaments, dog shows and activities for kids are all a part of the Eldon Family Day. Firework displays are an integral part of the day's celebrations. The Eldon fire department, that is responsible for the firework displays, synchronizes the entire performance with patriotic music. This show, which lasts for an hour, culminates with the national anthem.
July 4: Fireworks displays around the lake
"Fireworks on the Water" by The Lodge of Four Seasons. This firework extravaganza is unique every year. If you want to watch the firework display from the Lodge's property, ensure you book your stay with them well in advance.
Tar-A-Tar Resort at the Ozarks. Pyrotechnic, from the Newcastle region of Pennsylvania, puts up this show which lasts for 25 minutes, at the resort.
Another "Fireworks on the Water" event is conducted by Gravois Mills. If you want to be a part of this fireworks extravaganza, then, park your car on Highway 5 and take a boat to the show. A lot of visitors grace this 30 minute show each year. Licensed firework experts are invited by Gravois Mills to conduct the show.
Another highlight of the Fourth of July celebrations is the "Fourth of July Spectacular" organized by the Versailles police department. This show is an effort by the department to promote their city and put it on the global map. The show lasts for close to 30 minutes and lights up, not only the sky, but also the ground. Barrel races, carnival games and the famous watermelon eating competition are organized by the Versailles Chamber of Commerce and City Hall. This family fun event is one of the key features of the celebrations at the Ozarks each year.
BRANSON, MISSOURI AREA
Branson Landing 6th Annual Liberty Light Up Concert & Fireworks
Wednesday, July 3, 2013
Times: 8:00 p.m.
Location: Branson
Phone: 417-239-3002
Admission: FREE
Join us for Branson Landing's 6th Annual Liberty Light Up - and celebrate Independence Day - In a BIG Way - a Day Early! Don't miss our special WEDNESDAY, July 3rd Concert at 8:00 pm in front of the Branson Landing fountains featuring the band, THE HORN DAWGS, from Branson, MO.
Following the concert, Branson Landing's 6th Annual Liberty Light Up - will light up the skies over Lake Taneycomo with an amazing choreographed Fireworks Display Show produced by Gateway Fireworks Displays. This celebration promises to be unforgettable with a choreographed opening highlighting a spectacular celebration of America's Independence - closing with a Gateway Fireworks Signature Grand Finale that will leave you in awe. Following the Fireworks Spectacular, THE HORN DAWGS will take the stage again and end the evening on a high note!
Shepherd of the Hills July 4th Fireworks
Thursday, July 4, 2013
Times: After evening show
Location: Shepherd of the Hills Amphitheater
Guests can stay seated in the amphitheater as the night sky erupts overhead. Don't miss one of our favorite traditions!
Independence Day Picnic and Fireworks at Big Cedar Lodge
Location: Big Cedar Lodge
Help us celebrate Independence Day as we light up the sky with spectacular fireworks at dusk. Bring your lawn chair or blanket.
HOLLISTER, MISSOURI

60th Annual Hollister 4th of July Celebration
Times: Dusk
Location: Historic Downtown Hollister
JOPLIN, MISSOURI
INDEPENDENCE DAY CELEBRATION
The event will be held on July at Landreth Park. A food court will be open beginning at 3pm. Live music will start at 5:15pm with the Duke Mason Band. Other performers will include the Jake Clark Band and Big Smitty. Fireworks are scheduled to begin at 9:45pm. The city will offer free trolley service from Memorial Hall. Rides will be available from 7pm to 11pm. Murphy Blvd. will be closed from Pool St. to North Main beginning at 2pm.
BULL SHOALS, ARKANSAS
Independence Day Celebration
Thursday, July 04, 2013 - Saturday, July 06, 2013
Enjoy all-American fun for the entire family! Recreational activities are scheduled all day; the infamous watermelon eating contest, the seed spitting contest, the "Wet as a Trout" slip and slide, plus a variety of other fun games. Prizes awarded! Contact the park for a detailed schedule.
EUREKA SPRINGS, ARKANSAS
4th of July Parade & Fun in the Park
Date Thursday, July 04, 2013 to Thursday, July 04, 2013
Time 2:00:00 PM - 5:00:00 PM
4th of July parade and family fun in Basin Spring Park. Parade starts @ 2:00 PM and the free After-Parade activities start @ 3:00 PM in the park and go til 5:00 PM. The celebration continues at Turpentine Creek Wildlife Refuge starting @ 6:00 PM. Bring the kids and join the fun!
4th of July Fireworks
Date Thursday, July 4, 2013 to Thursday, July 04, 2013
Time 8:00:00 PM - 9:30:00 PM
Contact Pam @ 253-7700
More Info Fireworks at dusk @ Holiday Island Rec Center
FORT LEONARD WOOD, MISSOURI

Post's Independence Day Celebration is free, open to the public FORT LEONARD WOOD, Mo. - From food to entertainment to fireworks, Fort Leonard Wood's annual Independence Day Celebration will once again offer the public a Family-friendly way to mark the nation's birthday with events and activities throughout the day July 4 at Gammon Field. Events begin at 7 a.m. with the inaugural "These Colors Don't Run" 5k and 10k races starting at Davidson Fitness Center. Runners will be dowsed with red-, white- or blue-colored powder at select points along the route, with awards going to the top male, female and age group winners.
"It's based on the Color Run concept," Wilson said, adding that runners can pre-register for $15 either online at www.splitmastertiming.com or at Davidson Fitness Center now through 8 a.m. Monday. Runners can also register at DFC at 6:40 a.m. for $25 the day of the event.

The bulk of the activities begin at 3 p.m. at Gammon Field, with numerous activities, including music, vendors, a car show, outdoor volleyball tournament, a petting zoo, pony rides, a dunk tank and more.
Food vendors will have concessions are available for purchase throughout the event. According to LoraLee Neubeck, FMWR recreation specialist, visitors will have a variety of foods to choose from, with dishes cooked up by both nonprofit and commercial vendors.
We will have everything from funnel cakes to ice cream, snow cones, Italian shaved ice, barbecue, German food, Latino food, Filipino food and, of course, good old American hamburgers, hot dogs, nachos, pretzels, kettle corn, fresh-squeezed lemonade, fried Oreos and more," Neubeck said.
At 5 p.m., the 399th Army Rock Band, also known as "Frago Rock," is scheduled to perform. Official ceremonies begin at 7 p.m. with remarks from senior leaders and an Army Family Covenant signing, followed by the annual "Salute to the Nation."
Soldier Show, fireworks
Keeping its tradition of "entertainment for the Soldier by the Soldier" intact for three consecutive decade is the 2013 U.S. Army Soldier Show, which will take the stage at 7:30 p.m.
The theme of the 90-minute song and dance production is "Ready and Resilient: At Your Service," and explores what it means to be ready and resilient in today's Army as a Soldier, spouse, Family member, survivor, retiree and civilian.
"Every American, military-affiliated or not, will be able to see themselves in the show," said Victor Hurtado, the show's director.
The goal of the production is to accentuate the strengths and resiliency of Soldiers and military Families through modern songs, current hits, vibrant costuming, exciting choreography and spectacular visuals.
Two members of the cast and crew are familiar with Fort Leonard Wood. Spc. Marvin Forbes was the post's 2012 Operation Rising Star winner and will perform on stage, while 1st Lt. Jonathan Newey, Army Engineer, will work behind the scenes as a Army Soldier Show technician.
The show is free and open to the public. Following the fireworks show, at about 9 p.m., is the main event: fireworks.
"We have the largest fireworks display in central Missouri," Wilson said, noting that a large portion of the fireworks are supported by Fort Leonard Wood's recycling program.
Bring a lawn chair. Fort Leonard Wood's Independence Day Celebration has festival seating, and visitors are encouraged to bring their lawn chairs. For safety and security reasons, no coolers, pets or fireworks will be allowed on the grounds.
©1998 - 2013 Ozarksfirst.com
Nexstar Broadcasting, Inc.
All Rights Reserved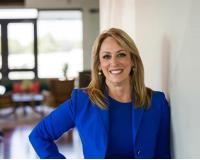 Michelle is a native of Southwest Missouri and has twenty-five years of experience in selling real estate in the greater Springfield area! Michelle specializes in all price points, including new const....